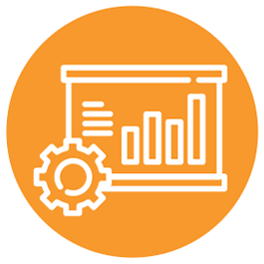 Your solution is designed from start to finish using a proven 3-phase Performance Process that produces real impact with lasting results. 
PHASE 1:
PERFORMANCE DRIVERS – Setting up for Success
Prior to delivering your solution, we use precise data collection tools that provide incredible insight, depth and understanding of your business, people and goals. From detailed assessments to face-to-face interviews and pre-solution workshops, these unique Performance Drivers ensure your solution is set-up for success from the start.
PHASE 2:
PERFORMANCE DELIVERY – Delivering the Custom Solution
Chris's dynamic coaching and development sessions produce high-performance leaders, teams and organizations. Emphasis is placed on immediate action-steps, skill development and practical application that is real and relevant to your business. And, your solution can be delivered in various formats: one-on-one sessions, small group engagements or large group events.
PHASE 3:
PERFORMANCE IMPACT – Ensuring it Sticks and Succeeds
Results need to be seen and growth needs to be on-going. To support this, we use Performance Impact tools during – and after – the solution that sustain and accelerate results. These include unique follow-up support systems, accountability measurements and integrative stakeholder sessions. You want sustained results and continued success, so we help make sure the skills and strategies "stick" long after Chris's sessions are completed.
| | | |
| --- | --- | --- |
| | 3 UNIQUE PERFORMANCE DELIVERY SETTINGS | |
One-on-one sessions with select individuals who are seeking to develop, accelerate and advance their performance in a specialized area.
Customized performance development that produces exceptional teams, leaders, and speakers who will inspire productivity and positive culture. 
Chris speaks at events of all sizes and delivers a powerful message that relates, resonates and results in immediate action for your business.
Solutions Include:
High-Definition Interaction – face-to-face, digital and electronic interactions keep you moving forward while on the go
"Short-Burst Sessions" – coaching and training that maximize your time and schedule
Frequent Follow-Up – direct communication that drives accountability, action and results
Easy action steps designed for immediate impact
Outcomes that can be seen, heard and felt within daily activities
Strategies, tactics and tools based on extensive research and performance science
Proven results, practical use and first-hand experience inspiring productivity and positive cultures
"Real and Relevant" solutions crafted to your specific goals
Increased awareness, action and ownership
"Grow yourself. Grow others. Grow the business."
Chris Flickinger
Start Here
The next level will require a better version of you. And, Chris brings out the best in people. So, how can he help you increase your performance?
About Chris Flickinger
Through his dynamic, personable and interactive style, Chris's easy action steps produce exceptional leaders, speakers and teams who inspire productivity and positive cultures.